Monthly Archives:
March 2014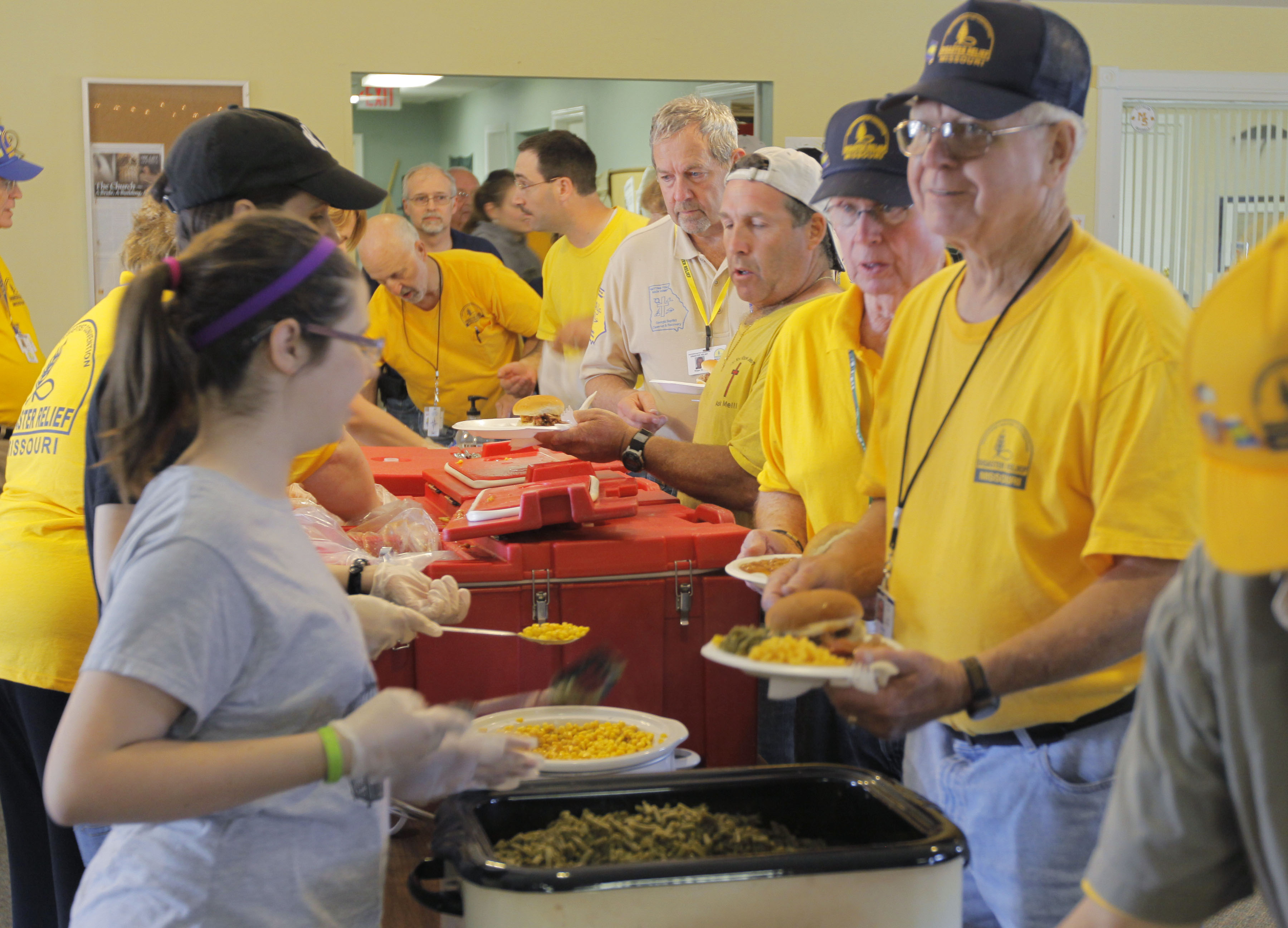 Submitted by Jono Anzalone
During the disasters, while local and state officials concentrate on emergency protective measures and life safety, they are often challenged with the amount of downed trees and other debris blocking roads and their communities' paths to recovery. Power may be out and people needing to eat. Hundreds of volunteers from faith-based groups, community organizations and private companies may quickly show up to help. Volunteers play a key role in any disaster.  Without volunteer labor, equipment or material contributions, many communities would have a much harder time responding and recovering from disasters.
Time and time again, Southern Baptist Disaster Recovery Team volunteers fire up their chainsaws to clear debris from roads, school grounds, parks and other areas. Workers from Presbytery, the National Presbytery Disaster Assistance Response Team, Assemblies of God and  members of other faith based organizations jump in to help. The American Red Cross (ARC) turns out with many volunteers working alongside local voluntary organizations, as well as providing shelters and feeding stations. Firefighters cook meals and the University of Extension offers support to the community. Those who cannot provide physical labor give moral support. Neighbors helping neighbors.
The good news is that some of this volunteer labor and other donated resources may be eligible under FEMA's Public Assistance Program requirements, when a Presidential Declaration is made, and could help local governments and other state agencies keep more money in their budgets to face future emergencies thanks to the FEMA Donated Resources Policy (RP9525.2). Though credit for donated resources is limited to emergency work such as emergency protective measures and debris removal, it is still good news for many local municipalities and agencies. So many volunteers turn out to help, and the time and other resources they donated will help ease the financial burden on many communities.
Examples of donated resources that may be eligible include volunteer labor for debris removal, sandbagging, or search and rescue operations, mass care activites, as well as donated equipment such as chainsaws, or donated materials such as gloves.
When it comes to donated resources, documentation is key! For volunteer work, local public officials must show hours worked, work site and a description of work for each volunteer. FEMA requires the same data for donated equipment and materials.   For more information, check out FEMA's Donated Resources Page.
The May 2011 Joplin tornado showed the incredible value the FEMA Policy offers communities, best stated by – Leslie Jones, City of Joplin, Finance Director:
"The $17.7 million of donated resources is the largest amount recorded in the history of Missouri and in FEMA Region VII. There were over 102,000 volunteers working over 610,000 hours along with donated goods and services valued at over $8.5 million, and 12,000 hours of donated equipment use. That's incredible and the City is very thankful for all who have helped Joplin. Not only did the volunteers help clean up Joplin, but they also helped us financially recover a significant amount of expense."
In addition to the amazing work performed by voluntary agencies, this force multiplier can save communities valuable tax base in order to kick-start their recovery.
On Tuesday, March 4, 2014, the National Mass Care Council hosted the 2nd installment of the National Mass Care Strategy webinar series– "National Mass Care Exercise: Helping to Build the State Capability". The panel of presenters represented government, private sector and voluntary agencies:
Michael Whitehead – State of Florida
Sue Bush – State of Washington
Brian Head – Sysco Corporation
Jono Anzalone – American Red Cross
During the webinar speakers discussed the history of the National Mass Care Exercise, the exercise experience and lessons learned and how mass care exercises can be used to build state capability. The presentation slides from this presentation are available here. The webinar, "National Mass Care Exercise: Helping to Build State Capability", is now available on demand.
Please let us know about your experience with the second installment of the National Mass Care Strategy Webinar Series by participating in our survey. We encourage you to keep the conversation going on the web at www.NationalMassCareStrategy.org  and on Twitter @mass_care.
Upcoming Webinar: Promising Practices for the Whole Community – Part One
FEMA's Office of Disability Integration and Coordination (ODIC) announces the first of our yearlong series of webinars on promising practices for the inclusion of people with disabilities and others with access and functional needs in emergency preparedness and disaster response and recovery.
Currently most disaster and emergency response systems do not adequately address the communication access needs of people who are deaf or hard of hearing, causing a lack of access to important and lifesaving information and services. The complexities of language and cultural differences pose serious barriers to first responders and emergency providers in reaching people who are deaf or hard of hearing. Sign language interpreters are key cultural and linguistic linkages providing access to actionable information. The Office for Access and Functional Needs (OAFN) was created within California Office of Emergency Services (Cal OES) in 2008 with the purpose of identifying the needs of people with disabilities before, during and after a disaster and integrating disability needs and resources into all aspects of emergency management systems. Cal OES, through OAFN established the Disaster Response Interpreter (DRI) training program to credential certified sign language interpreters, formalizing a statewide system of securing and deploying qualified interpreters during a disaster to provide communication access for Deaf and Hard of Hearing individuals. This Webinar will provide an overview of California's DRI Program with recommendations on how this promising practice can be replicated.
When: March 11, 2014     2:00 p.m. to 3:00 p.m. EDT
Important links:    Webinar  |   Closed Captioning