Monthly Archives:
October 2015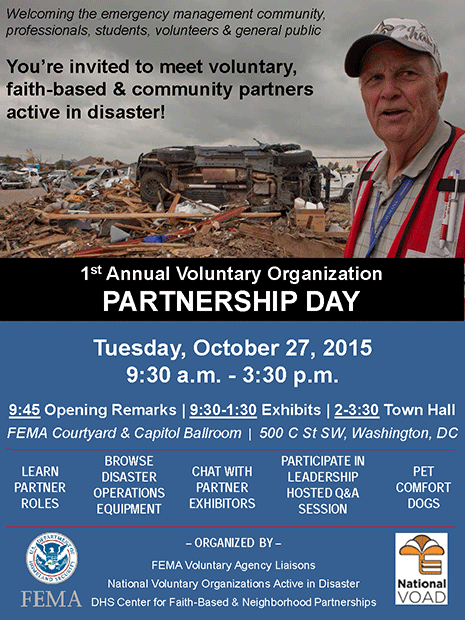 On Tuesday, October 27, 2015,  professionals, academicians, students, and volunteers in emergency management, public administration, and related fields are invited to attend the the first annual Voluntary Organization Partnership Day to learn about and build relationships with our voluntary, faith-based, and community liaisons and partners.  This event is co-hosted by FEMA Voluntary Agency Liaisons (VALs), the National Voluntary Organizations Active in Disaster (National VOAD), and the DHS Center for Faith-Based & Neighborhood Partnerships.
Voluntary Organization Partnership Day
Tuesday, October 27, 9:30 a.m. – 3:30 p.m.
FEMA Headquarters, 500 C St SW, Washington, DC
9:45 – Opening Remarks in the FEMA Courtyard
9:30-1:30 – Exhibit Showcase in the FEMA Courtyard & Capitol Ballroom
2-3:30 – Town Hall in the Capitol Ballroom
This unique event will recognize and build awareness of the valuable services and support our voluntary, faith-based, and community partners provide to disaster survivors before, during, and after disasters.  Attendees can browse mobile response units and exhibit booths to learn about whole of community partnerships.  Additionally, visitors can interact with comfort dog teams and network with partner representatives and other attendees.  Please email questions to AC Claud (alfred.claud@fema.dhs.gov).
We hope everyone can take advantage of this opportunity to learn about expeditionary collaborations and build relationships with our voluntary, faith-based, and community partners!
Download the flyer here.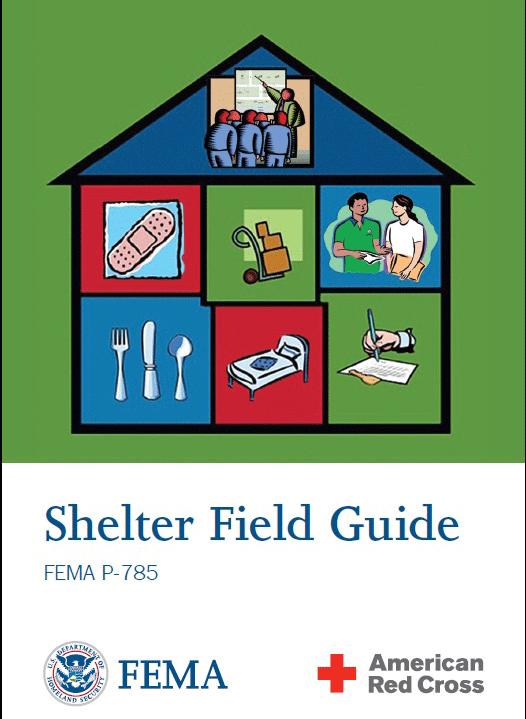 The purpose of the Shelter Field Guide is to provide sheltering best practices to faith-based groups, non-profit organizations, government partners, and private industry. The guide was co-developed by the American Red Cross and the Federal Emergency Management Agency with support of a work group that included all levels of government.
The Shelter Field Guide has eight sections that cover the standard activities and tasks which occur during the pre-opening, opening, ongoing, and closing phases of shelter operations. Each section contains information for workers in registration, feeding, dormitory management, health and mental health care, staffing, logistics and shelter management. Additionally, the guide provides position checklists and training outlines for each position so that spontaneous shelter managers can use the guide to train their personnel.
The Shelter Field Guide can be used as a job aid and/or just in time training during a disaster operation.
Download the Shelter Field Guide
Shelter Field Guide FAQ and Ordering Instructions