Mass Care Seminar in Conshohocken, Pennsylvania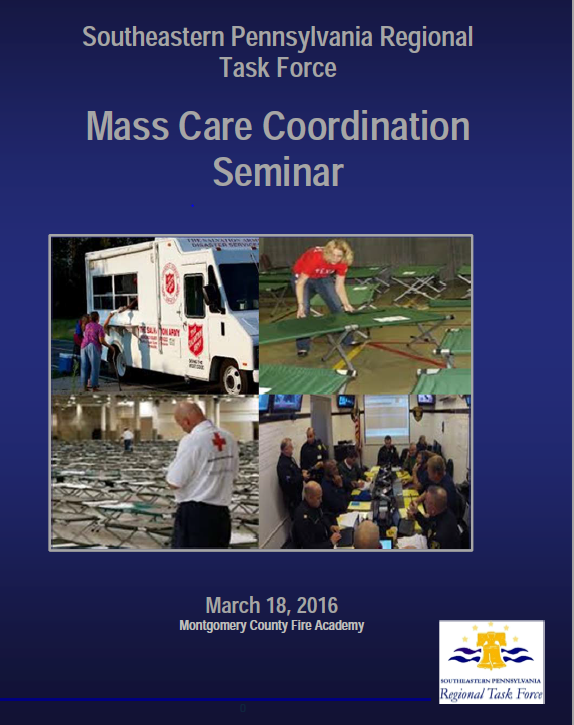 Leveraging Regional Partnerships for Better Local Planning
On March 18, 2016, the Southeastern Pennsylvania Regional Task Force (SEPA RTF) and the Health and Human Services Workgroup (HHS WG) sponsored a Mass Care Seminar at the Montgomery County Fire Academy in Conshohocken, Pennsylvania to bring together local and regional key stakeholders to discuss mass care preparedness and response planning. This seminar was the second exercise in a series of activities to explore and improve the region's mass care emergency support function (ESF #6) capacity and capabilities.
Over 60 participants from over 30 local, state, and federal agencies and service providers attended the seminar from key sectors such as emergency management, public health, nongovernmental organizations, human services, and advocacy groups representing access and functional needs and disabled populations.
Participants enjoyed six informational sessions led by nationally recognized subject matter experts in mass care, including Denise Grimm, Dawn Skaggs, and Jon Bodie from BCFS Health and Human Services and Michael Whitehead from the American Red Cross National Headquarters. Session topics provided mass care planning information, best practices, and methods for improving local mass care plans and partnerships. The six sessions led participants through key issues such as providing medical care in local mass care shelters, how to support those with access and functional needs both in planning and in response, incorporating mental health services in emergency planning and sheltering, and how to better coordinate and incorporate nongovernmental organizations and other non-traditional agencies into the local mass care process.
Seminar participants described this effort as important for enhancing agency networking and improving partnerships. Several attendees agreed that the information was crucial but also validated their own organizational directives and planning efforts. The motto "Be Ready, Not Relaxed" was provided by one of the participants, who stated that the seminar was a great collaboration for the region and hoped to see more opportunities like this one for future coordination.
Information from the seminar is available online at: http://www.ttemidev.com/mass-care/. Seminar materials include event objectives, speaker bios, and presentations as well as a list of online resources mentioned throughout the day.
More About the Sponsor:
The Southeastern Pennsylvania Regional Task Force – Health and Human Services Workgroup includes the City and County of Philadelphia, Bucks County, Chester County, Delaware County, and Montgomery County. The Health and Human Services Workgroup continues to work to improve the local and regional mass care response within the region through an integrative, collaborative, and cooperative program that builds, maintains, and enhances preparedness capabilities among regional stakeholders.