National Mass Care Exercise 2017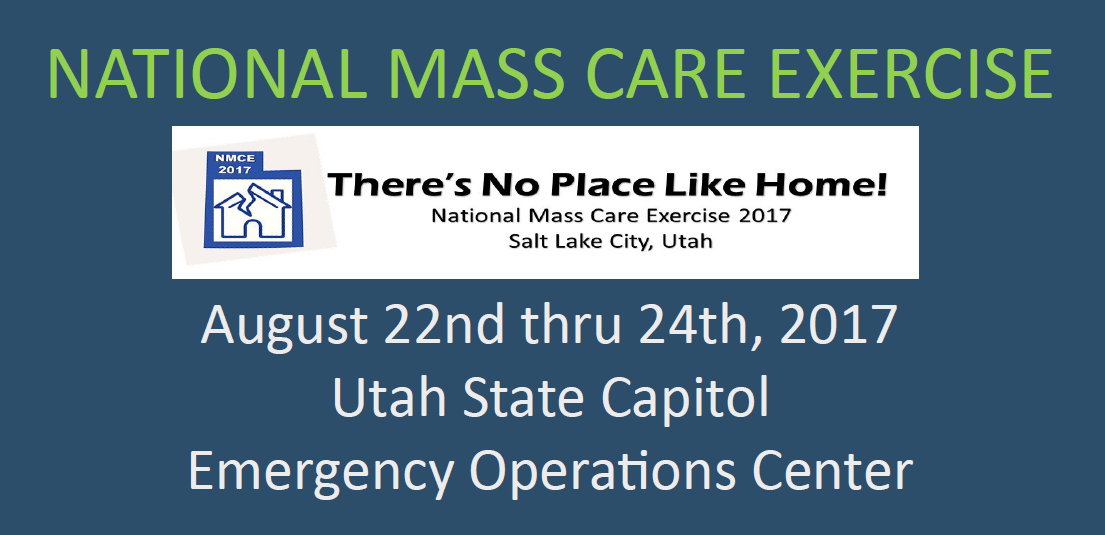 The State of Utah has graciously agreed to host the 2017 "There's No Place Like Home" National Mass Care Exercise and would like to invite you to participate.
The exercise will be held Aug. 22nd-24th, in Salt Lake City, UT.  Travel dates will be Monday the 21st and Friday the 25th (or late afternoon Thursday the 24th.)
This year's NMCE will build off of the Wasatch Earthquake Catastrophic plan with the focus of the exercise play on the coordination at the State EOC ESF#6 desk and the many mass care activity's liaisons.  There will be an abundance of field play mainly coordinated by the Red Cross that will allow for setting up shelters, activating the multi-agency feeding task force, bulk distribution sites, and a potential non-resident evacuation embarkation site.   In addition, the customary task forces (MC Activity Groups) will be strategizing on the topics of feeding, sheltering, bulk distribution and reunification.
If you are interested in participating in "There's No Place Like Home,"  please send an email to Tanya.Harrington@associates.fema.dhs.gov or Elizabeth.Dipaolo@fema.dhs.gov
Download exercise information flyer here.